An astronomer musical shows the friendship between the stars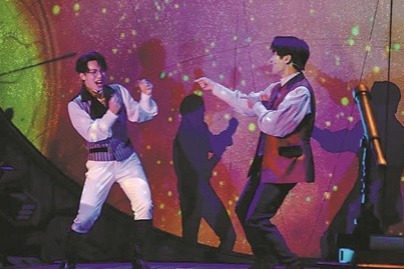 The new Chinese musical Sidereus, which tells the story of the friendship between astronomers Galileo Galilei (1564-1642) and Johannes Kepler (1571-1630), premiered in Shanghai on August 13.
Adapted from a South Korean musical of the same name created by Kim Dong-yeon, the first run of performances of the Chinese version ran through Sunday at Shanghai's Theater Above.
The Korean musical premiered in 2019 and was nominated for the best musical production of 2020 in the country. The Chinese edition is Shanghai Culture Square's seventh musical production and marks Kim's second collaboration with the Shanghai company.
"This is one of the first musical productions in China about scientists," said Fei Yuanhong, deputy general manager of Shanghai Culture Square. "This is a beautiful theatrical production, with excellent music and a well-designed stage that evokes a rich imagination about outer space."
Fei adds that "what touched me the most was the vivid depiction of the two scientists. Their discoveries are important for human civilization. The musical presents them as living people with real emotions, so we decided to introduce it as a new type of Musical Show".