Indigenous musical artists perform at the Toronto Art Show this week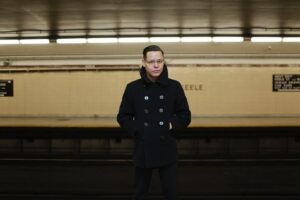 By Sam Laskaris
TORONTO – Indigenous musicians from North and South America will perform free concerts later this week at an art exhibit currently underway in Toronto.
Musical entertainment will be featured at the Locating Self Care in Urban Centers exhibit, which opened in September and will run through the end of the year at the Collision Gallery.
AM//PM Productions, a company that prioritizes Indigenous, color, non-binary, and female artists and musicians, curates this week's musical efforts at the Expo.
Adam Moffatt, director at AM//PM Productions, and Emily Granville, member of Wiikwemkoong Unceded Territory, are the co-curators of the concert series.
"What was great about this series is that a lot of artists haven't had a lot of luck playing in Toronto recently," Moffatt said, adding that the ongoing COVID-19 pandemic has, for the most prevented live broadcasts from taking place. in the city. "So all the artists were ready to step in and put on a show."
To start, Evan Redsky and Quique Escamilla will perform on Friday, November 26 from 5-7 p.m.
And then on Saturday, November 27, from 2-5 p.m., there will be performances by New Tradition, Lacey Hill, and Cody Berry-Ottertail.
Redsky, a singer-songwriter from Blind River, was a member of Single Mothers, a Juno-nominated rock band, for five years. He has since left the group to return to his roots as an Indigenous storyteller.
Escamilla was born in Mexico but now lives in Toronto. He plays various instruments and is also a singer-songwriter and producer.
Hill, who is from Six Nations, has Oneida and Mohawk ancestry. She is a singer-songwriter and speaker who launched her first album entitled 528 in 2013. Her third album is due out later this year.
Meanwhile, New Tradition is the stage name of Ruben (Beny) Esguerra. He came to Toronto via Bogota, Colombia with his parents as political refugees. He is now a JUNO nominated musician who plays multiple instruments, producer, spoken word poet, arts educator and community worker.
Saturday's entertainment will also include a Berry-Ottertail dance performance.
"We're just trying to get more eyes on this incredible exhibition curated by Emma," Moffatt said of this week's concert series.
Emma Steen, a non-status Anishinaabe living in Toronto, is the curator of Locating Self-Care in Urban Centres.
It focuses on Indigenous and Black perspectives on care as methods of resistance and sovereignty.
The exhibition highlights the works of an Aboriginal artist duo, Susan Blight and Laura Grier. Blight is from Couchiching First Nation while Grier is from Deline First Nation as she was born in Yellowknife. Blight and Grier now live in Toronto.
Moffatt, who is not Indigenous, said he brought in Granville, who is a first-year music student at Wilfrid Laurier University in Waterloo, to serve as this week's co-curator of music entertainment.
Granville previously worked with Moffatt at the Weengushk International Film Festival on Manitoulin Island. Moffatt is the director of the festival.
Granville said she was thrilled to be part of the exhibit because it helps reduce the harms of Indigenous people. And having a role in the animations of this week is also a plus.
"It also gives more visibility to Indigenous artists," she said.
The Collision Gallery is located at 18 Wellington St. W. in downtown Toronto.
Locating Self-Care in Urban Centers is part of Toronto's year-long celebration of public arts, which began in the fall and is titled ArtworxTO.