Music group CU Credo visits local schools and churches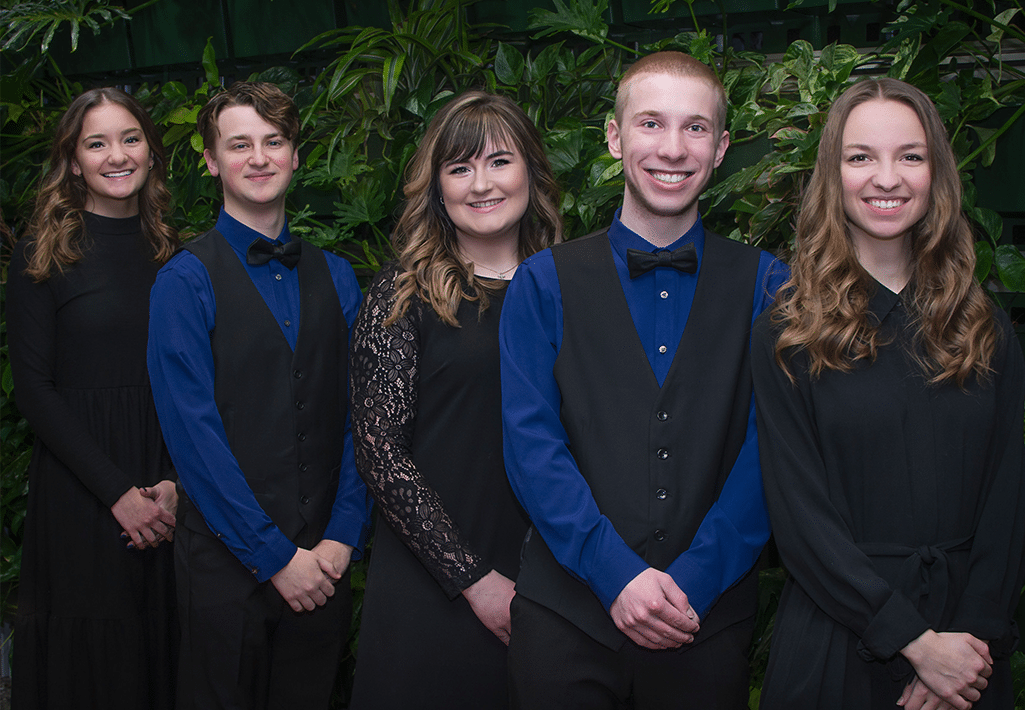 During the months of March and April, the Cornerstone University Credo a cappella ensemble visited four local schools and an area church, spreading both the joy of music and the gospel to students and to congregations.
After two years without being able to travel, as is often the case with some Cornerstone musical groups, the five-voice ensemble had the opportunity to perform and worship in West Michigan. The group, three of whom are freshmen, have only performed at a handful of off-campus venues since the COVID-19 pandemic began. And for Caleb VanderMaas (BA '23) and Emily Denbow (BA '24), it was a joy to get back on the road.
"As an education specialist," said VanderMaas, "it is refreshing for me to be in a school environment, to study under our director, Dr Kent Walters, as he works with high school students."
VanderMaas and Denbow are both music education students at Cornerstone. As they toured area high schools – which included South Christian High School, Zion Christian High School and Jenison High School – they realized that their love for music and singing was the reason they came to Cornerstone to pursue their vocation. Now they have the opportunity to share that joy with others.
Credo also performed and worshiped at Lifestream Church in Allendale, Michigan, Denbow's Church. Denbow was involved with Lifestream's praise team, but living that same praise with her ensemble has brought a new dimension to the service.
"For as long as I can remember, I've been on the Lifestream worship team," Denbow said. "I didn't think anything new could happen. Being able to combine my school life with my church life was really fulfilling.
Dr. Kent Walters, music teacher and director of music programs at Cornerstone, is encouraged by the way his students have worked and learned together throughout the year.
"They've really gained confidence, both musically and personally," Walters said. During Credo tours, members of the ensemble often share their testimonies or, in the case of high school tours, answer students' questions. "Not only have they gained confidence, but now when they enter their career field, they can start teaching others this same kind of stuff."
Credo will continue to tour throughout the spring and beyond the end of the semester, remaining in the West Michigan region. Walters hopes to bring Credo and Chorale, Cornerstone's largest musical ensemble, on tour out of state. In the past, groups have traveled to Florida, Chicago, the East Coast and Europe. In the spring of 2020, Walters had planned a Chorale tour in Asia, which was canceled due to the pandemic.
"At Cornerstone University, we place a high value and emphasis on experiential learning," said Dr. Gerson Moreno Riaño, President of Cornerstone. "Credo's tour is an example of our incredible students sharing their gifts in the community and engaging in the study of music."
Despite the challenges of the past few years, Cornerstone's music programs have found unique ways to keep performing, and Walters was happy to get Credo back on the road. He believes this is an important aspect of their development as musicians and followers of Christ.
"It gives me great personal satisfaction to watch these students grow and learn musically, spiritually and socially, and for me to have a small impact on their lives," Walters said. "Thank God for that!"
University Chorale, Credo and the Cornerstone Women's Chorus will perform at the final choral concert of the year on Sunday, April 24 at 4 p.m. at the Matthews Performing Arts Center.