OneBeat returns to Albuquerque with 25 musical artists from 19 countries for a one-day festival — City of Albuquerque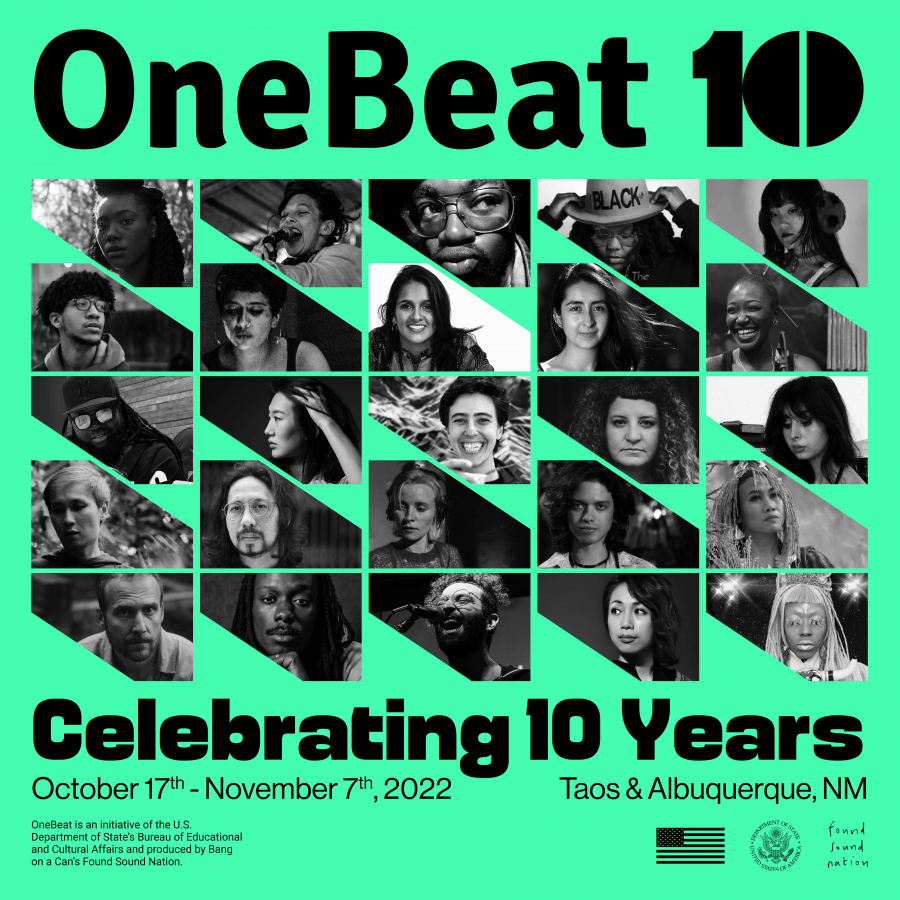 October 27, 2022 – 516 ARTSthe Albuquerque Museum of Contemporary Art, partners with Found Sound Nation and the City of Albuquerque Department of Arts and Culture to present OneBeat X, a day-long festival of global music and arts at the Albuquerque Rail Yards on Saturday, November 5, 2022 from 3-8 p.m. This is the culmination of a residency in New Mexico for the unique music diplomacy program, OneBeat, which brings young musicians to the United States around the world to compose, produce and perform original music and develop social development strategies. engagement through music.
Get tickets here.
The upcoming event is reminiscent of the phenomenal music and arts event that 516 ARTS presented at the Albuquerque Rail Yards in 2014. The upcoming festival features visual art installations, interactive music, food trucks, beer from Tractor Brewing, and more. The lineup of live performances by OneBeat Fellows and guest artists includes acclaimed pan-Latin American band LADAMA, percussion ensemble Tigue, and a special collaboration between Nigerian guitarist Biodun Kuti and acclaimed multi-instrumentalist Mark Stewart.
Over the past 10 years, OneBeat has grown from a residency and musical exchange in the United States to a constellation of programs and initiatives spanning 50 countries around the world. Among the returning residents who stood out this year were Ghanaian poet and spoken word artist, Poetra Asantewa; Kenyan DJ, producer and songwriter, Blinky Bill; award-winning Colombian percussionist, Jenn del Tambo; Warsaw-based composer and multi-instrumentalist Piotr Kurek; and impromptu gayageum player, Kyungso Park. Learn more about OneBeat Fellows here.
The OneBeat X festival includes a visual art exhibition, curated by 516 ARTS curator Rachelle Pablo (Diné), titled Intra-Relating, featuring a selection of visual artists who engage with the vast space of the Albuquerque Railyards Blacksmith Shop. Their installations address themes of interconnectedness between all life forms on a global scale, spanning humans, more than humans, land, water and sustainability. Artists include visiting OneBeat artists Xuan and Chris Williams, plus New Mexico artists Ellen Babcock, Dante Biss-Grayson (Osage), Lance Ryan McGoldrick, Billy Joe Miller & Hourseyes, Jazmin Novak (Diné), students in video mapping from the NMHU Media Arts program, and performances by Denver comedian and juggler Sam Malcolm (Stillwater Paiute), among others.
"People continue to be speechless and amazed as they attempt to convey their OneBeat experience." – Shodekeh Talifero, 2018 (USA)
OneBeat brings together music leaders from the United States and all regions of the world to develop collaborative music initiatives that build resilient civil societies and contribute to cross-cultural dialogue. It has grown into a global community of musicians who combine their artistic processes with the betterment of their communities. OneBeat is an initiative of the U.S. Department of State's Bureau of Educational and Cultural Affairs and produced by Bang on a Can's Found Sound Nation.